Today we sat down with Kelly Curtis, Director of Operations at Solaroo Energy, a local Utah solar installation company to talk about the latest solar technology that was unveiled at the SPI International Solar Conference in Anaheim last week.
The solar convention is a great place to see the latest and greatest technology in renewable energy. There is much to be excited about with solar technology, and especially energy storage in the coming years. Here is a sneak peek into a few technologies.
Tesla Powerwall Battery
There is a lot of hype about Tesla Motors' new home battery storage system, and rightly so. The prospect for those with solar generation capacity to emancipate themselves from the grid and from net metering policy (see Nevada's quandary) is very enticing indeed. Tesla has been, as usual, right on target with announcing their product, design, and price points, but slow to make those promises available. The solar show gave the opportunity to see the Powerwall in person, however, hooked up to a SolarEdge inverter.
Tesla has announced two sizes for their Powerwall – a 7KW version for $3,000, and a 10KW version for $3,500. Both have the sleek look reminiscent of an iPhone, which is completely revolutionary to the current design of basically a rack of oversized car batteries.
For those who have planned ahead with their solar inverter selection, retrofitting a Powerwall won't be a big deal. Curtis explains, "For those with a newer model SolarEdge inverter, a DC disconnect add on will be available to integrate with the Powerwall. It might not be as simple for those with other inverters."
Tesla was not at the show, but SolarEdge was quoting that Tesla's limited Powerwall inventory is sold out until mid 2016 until their gigafactory increases production. So retrofitting a system might be the way to go if you want to take advantage of the tax credits that expire in 2016.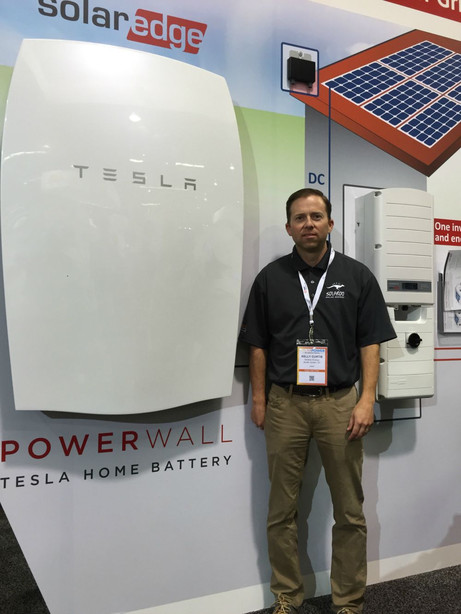 Bifacial Solar Panels
Bifacial solar panels are a great sub development in what normally is a category with not much recent development. Bifacial panels still look like regular monocrystalline panels, but the material around the cells is translucent, which allows some sunlight to pass through the panel, reflect off the roof and hit a second layer of cells on the backside.
This allows in many cases a 25 percent bump in production. At first glance, that is a major development, however, a white roof is needed to reflect the sunlight in the way it needs for the second layer of cells to be of benefit.
"In Utah's market, most pitched roofs will have a colored asphalt shingle, which won't really work with a bifacial panel." Curtis said, "The commercial market, however, especially for buildings with a flat, white, membrane roof, would likely get the production bump."
The ITC tax credit legislation
The other major development from the show wasn't technology, but was the legislation talk centering on the ITC, or Investment Tax Credit, which gives solar owners a 30 percent federal tax credit for their purchase.
Much of the talk was about the possible 80,000 jobs that are anticipated to be lost if the ITC wasn't extended. Even Vice President Joe Biden was a keynote speaker with much of his remarks pointed at the ITC.
There was growing concern that nothing has been done, and many are preparing for the fallout of the make-or-break legislation. Curtis comments, "The feeling in the industry is still – get your solar installed by the end of 2016 or risk losing the credit. No one knows exactly how the legislation will go."
For more information about this article, please contact Solaroo Energy, or click here.